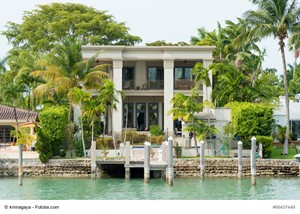 Although your Florida luxury home may have served you well for many years, there might be no time like the present to list your deluxe residence. Luxury houses in Orlando, Tampa Bay and other Sunshine State cities and towns are in high demand. As such, now may prove to be an ideal time to list your Florida luxury home and maximize your home sale earnings.
Ultimately, there are many reasons to add your Florida luxury residence to the real estate market today, and these include:
1. You can reap the benefits of a quick, seamless home selling experience.
Selling a Florida luxury residence can be simple, regardless of whether your house is located in Fort Lauderdale, Miami or elsewhere in the Sunshine State. And if you plan ahead for the home selling journey, you should have no trouble achieving your desired results.
Updating your Florida luxury house's exterior, for example, can make a world of difference in the eyes of homebuyers. If your Florida luxury residence boasts a stunning garden, spacious driveway or other awe-inspiring exterior features, you may be better equipped than other sellers to enjoy a fast, profitable home selling experience.
2. You can find a new house that matches your lifestyle.
A Florida luxury house initially suited your lifestyle perfectly. But over time, things can change. And if you list your Sunshine State luxury residence, you can reenter the housing market and find a new home that meets or surpasses your expectations.
There is no shortage of high-quality residences available in Jacksonville, St. Augustine and other Florida cities and towns. For instance, if you want to find a new luxury residence close to family members and friends in South Beach, you can kick off a home search in this area right away. Or, if you would prefer to move into a smaller home in your current city or town, the Florida real estate market offers many opportunities for you to do just that.
3. You can receive expert support throughout the home selling journey.
If you want to sell your Florida luxury house but have no idea about what to do, there is no need to stress. In fact, you can hire a real estate agent who possesses Sunshine State luxury housing market expertise to help you simplify the home selling journey.
Typically, a real estate agent will meet with you and help you establish realistic expectations for the Florida luxury home selling journey. If you are interested in selling your luxury home in Lake Worth, for instance, a real estate agent will help you create an effective strategy to promote your residence to buyers in this city. Comparatively, if you want to sell your Boca Raton luxury home as quickly as possible, a real estate agent will work with you to help you accomplish the optimal results.
Take the guesswork out of selling your Florida luxury home – collaborate with a Sunshine State real estate agent, and you can enjoy a successful home selling experience.